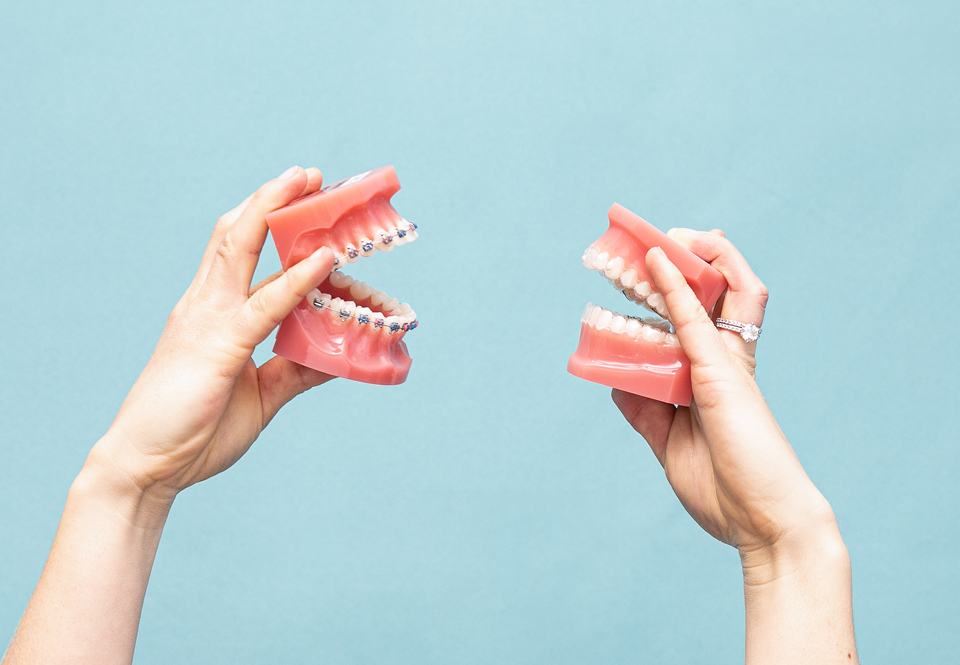 Crooked teeth could make you feel self conscious of your smile, but there are things you can do to achieve that picture-perfect smile. Invisalign and traditional metal braces are the two most popular teeth straightening treatment options that can help solve your orthodontic problems. At Smile Team, we're here to help you determine which solution is the best treatment for you.
Differences between Invisalign and Braces
Braces and Invisalign share the same goal – aligning teeth, they are two very different approaches, each with their own benefits. From the cost of your orthodontic treatment to treatment time and more, we'll compare these types of treatments below to help you decide which journey suits you best: braces or Invisalign.
What is Invisalign?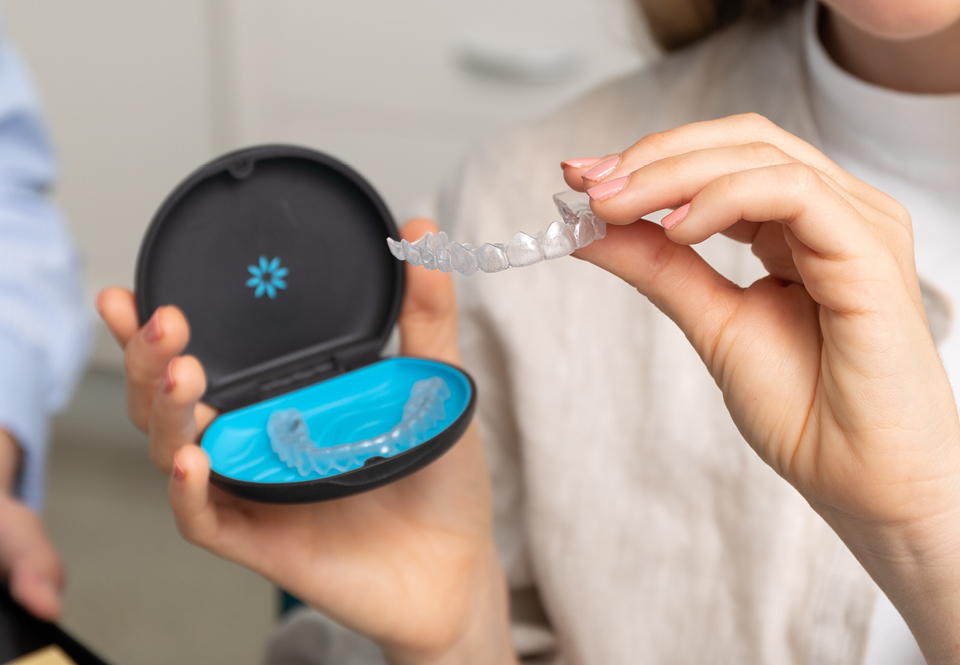 Invisalign's clear aligners are the closest thing to straightening your teeth with near-invisible braces. Very different from braces, Invisalign treatment does not use metal brackets or wires but instead works to straighten your teeth through a series of clear and removable plastic aligners, custom made for your mouth.
Advantages of Invisalign
There are many benefits when straightening teeth with Invisalign clear aligners. Let's delve deeper into the benefits of these clear aligners.
Virtually invisible.
Many dentist and orthodontists recommend Invisalign treatment, especially for those who want an effective yet discreet alternative solution to metal braces. They are virtually invisible while they discreetly help you achieve straighter teeth.
Comfortable.
Invisalign braces are made out of a smooth plastic material. It's a flexible material which is generally experienced as more comfortable than traditional braces. The Invisalign removable trays are custom made for each patient, which minimises discomfort while aligning your teeth.
Completely removable.
While you should wear your clear retainers at least 22 hours a day to stay on track with your progress, Invisalign aligners are completely removable. Traditional braces don't require too many lifestyle changes, but it is recommended to take extra care with certain foods and sports; which isn't the case with Invisalign.
Plus, if you have a special occasion come up, you even have the option not to wear your retainers at all. Just remember to have them on for a minimum of 22 hours a day and be mindful of your progress!
Disadvantages of Invisalign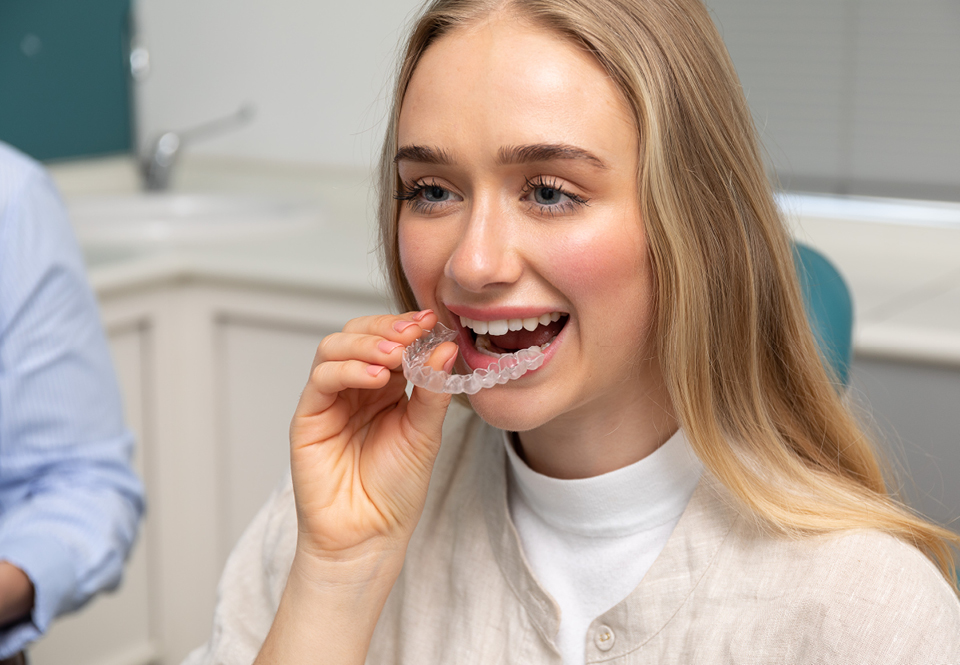 Invisalign is one of our patients' favourite ways to straighten teeth. However, it's important to understand the drawbacks of this type of treatment too. While there aren't many, we'll explore them next.
Completely removable.
While it's a great benefit to be able to completely remove your aligners, it's also a drawback. It might be very tempting to not wear your retainers at times, but in order to stay on track of progress you need to wear your retainers for at least 22 hours a day. And this patient compliance might require quite some discipline!
Removing aligners can be inconvenient.
Every time you eat or drink anything other than water, you should remove your aligners. Removing them discreetly when you're out in public might need some practicing at first.
Additionally, extra attention for good oral hygiene is key while your teeth are pushed in the correct position. You need to brush your teeth before replacing your aligners to make sure no food particles are locked in with your aligners. For similar reasons you may have increased risk of cavities and bad breath.
Most importantly: you have to make sure not to lose your aligners when you take them out to eat or drink.
What are Braces?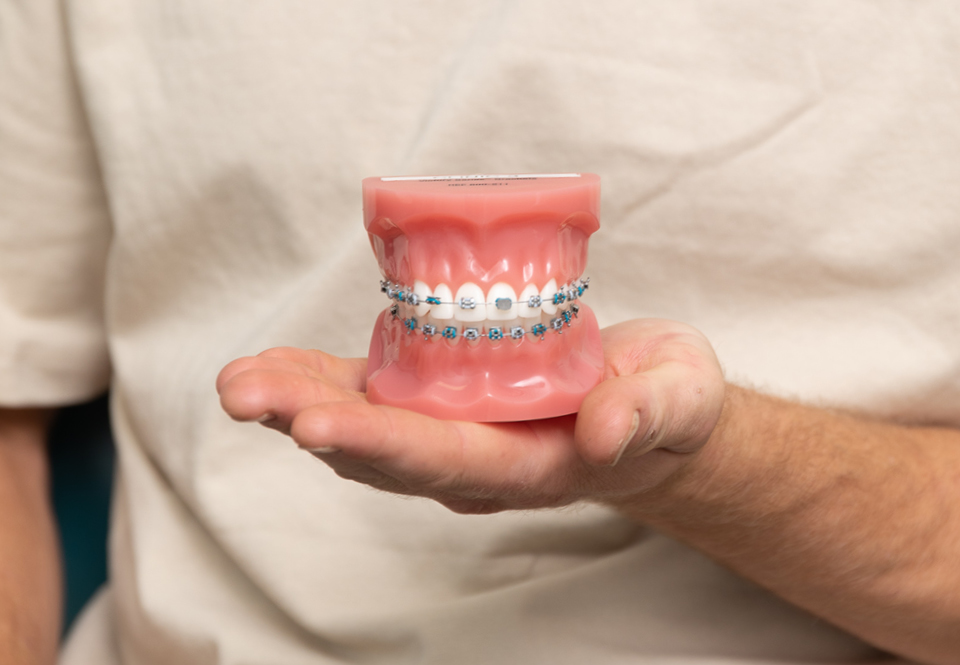 Traditional braces are what you think of when you hear the word braces. They consist of metal brackets and wires. Modern metal wired braces are much smaller and less noticeable than they used to be, so they are still a wonderful solution for teeth alignment.
Advantages of Braces
While you might already be sold on Invisalign to help straighten your teeth, it's important to understand your options. That includes the benefits of more traditional braces, which we'll discuss next.
Effective for trickier cases
While most cases are suitable for Invisalign treatment, more severe cases may not be suitable for the clear aligners. Now we're not saying all cases are right for traditional braces, but this solution can straighten out more complex bites than Invisalign.
They are durable
While the number of Invisalign aligners depends on the severity of your specific situation, most patients go through 20-30 aligners. Metal braces are designed to last the duration of your treatment, minimising the waste involved with your journey.
Constant treatment
While it may feel limiting to not have the option to remove your braces as you please, it does mean you'll constantly be working towards your perfect smile.
Especially if you're considering straightening your kid's crooked teeth, who may not have the appropriate determinacy for their treatment. Plus, since your braces are fixed to your teeth, you can't misplace or lose them.
Disadvantages of Braces
Like each treatment, there are also a couple of disadvantages to braces. Read on to discover the cons to braces so you can make a more considered decision if you decide to straighten your teeth.
Aesthetics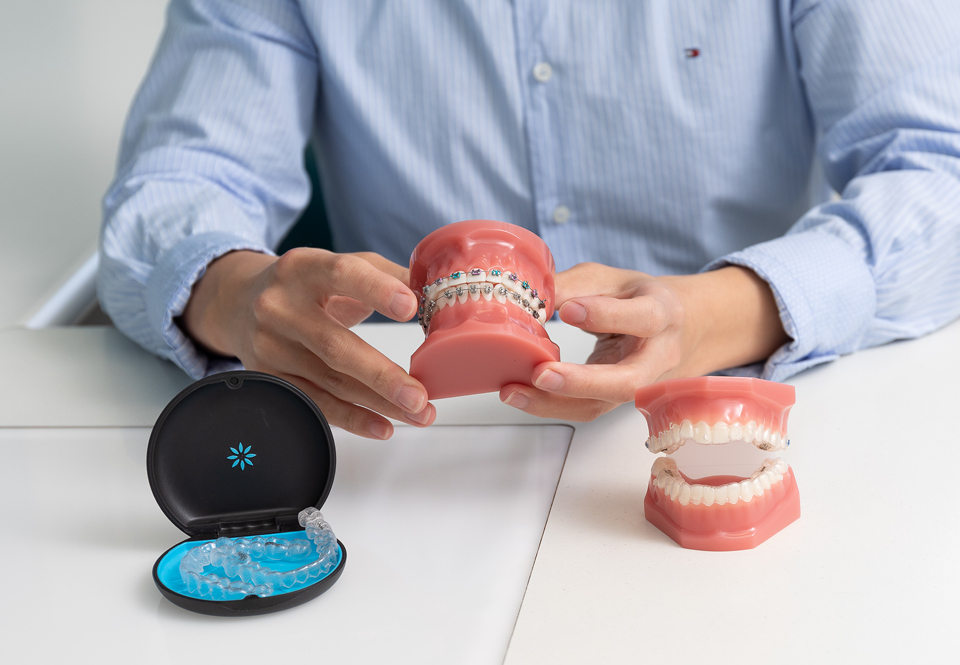 Traditional braces are more visible than Invisalign's see-through aligners. And while we think no one should hide their smile at any time, we appreciate that some patients won't wear their braces with pride.
Having said that, this treatment option allows you to pick funky colours for their rubber bands, so you can jazz up your look while you work on your orthodontic issues.
Food restrictions
Hard foods like apples, boiled lollies and large nuts should be off-limits when you're wearing braces, as biting into them can cause your brackets to pop off.
Chewy and sticky foods like caramels and liquorice should also be avoided; they'd easily get stuck between your braces, and can cause staining or cavities on your teeth, or even gum disease.
Harder to maintain
Firstly, it can be tricky to clean your teeth properly. This could lead to cavities or discolouration on your teeth. But besides the extra care you should take during your orthodontic treatment, traditional braces also require regular appointments to your orthodontist. While we could send you multiple sets of Invisalign retainers, you'll have to come in for us to adjust your metal braces.
Mind you: even if you're choosing Invisalign for your treatment, you'll still have regular appointments so our friendly team can keep an eye on the progress of your tooth movements.
Cost and time.
We appreciate two other factors that come into play when deciding on your treatment type: the cost and duration of your treatment. It's hard for an orthodontist to answer either of those questions. For both braces and Invisalign, the treatment time depends on ones individual's teeth. The general ballpark of six to eighteen months, but seeing one of our friendly orthodontist can give a clearer idea after looking in your mouth.
Smile Team is here to help plan our journey.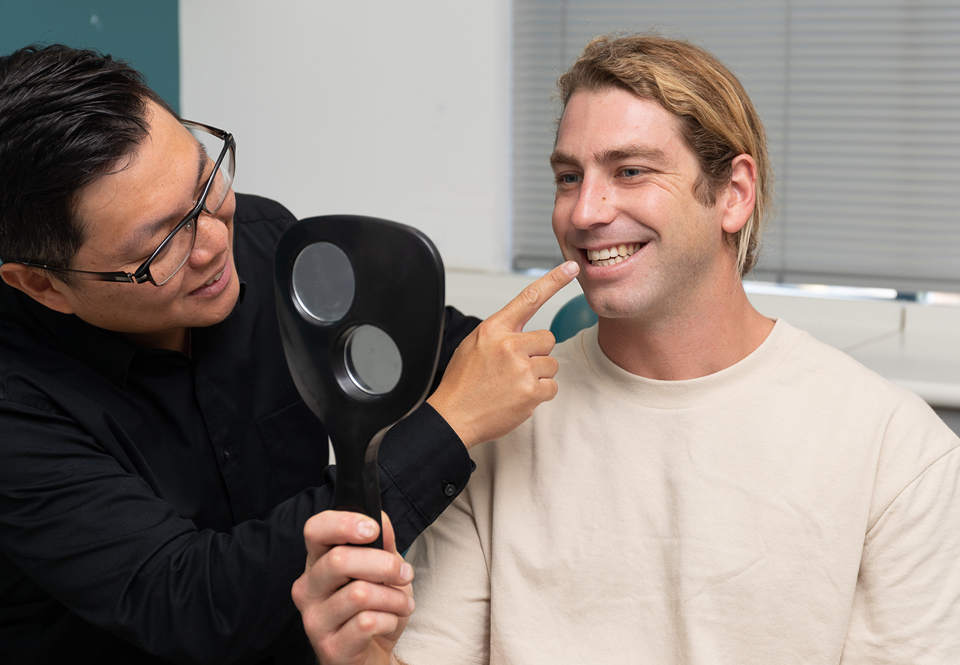 While we hope you understand some of the pros and cons to both Invisalign and metal braces, we can imagine you could have any further questions regarding braces vs Invisalign. That's why we offer complimentary consultation for new patients to explore the most effective solution for you with our treatment consultant, whether it's your first time talking about braces vs Invisalign, or if you're looking for a second opinion after seeing your general dentist.
As a specialist of everything that goes on in your mouth, a dentist can offer you a teeth straightening solution, but an orthodontist is specialised in helping patients align their teeth. At Smile Team, you'll find a team of passionate orthodontic specialists, who can offer patients a great service built on years of experience.
During your free consultation, one of our friendly team members can answer any questions you may have regarding straightening teeth. Plus, we can have a closer look at your current smile to give a better indication of what to expect from your treatment, making it easier for patients to choose between braces or Invisalign.