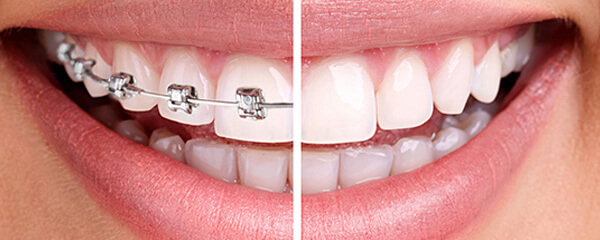 The best thing about choice obviously is that you have options. We are here to make sure your options are clear when it comes to choosing which orthodontic treatment to get. We know there is a lot to consider, and we will give you all the information you need to make the right decision.
Both Invisalign and braces are designed to straighten your teeth and help transform your overall appearance, not to mention they can also help make sure you have a healthy mouth. Straighter teeth can make it easier to clean your teeth and so reduce the chance of tooth decay and gum disease.
We are so committed to helping you get it right, that we offer complimentary orthodontic assessments at our clinics to answer any questions you may have, and find the right solution for you or your children.
Invisalign 101
We get asked all the time, 'what is Invisalign?' It is afterall, a fairly new treatment. It has become so popular so quickly, because they are almost invisible on your teeth. And funnily enough most people are pretty keen to hide any treatment in their mouths. For the record we think all our patients look great, but of course we are biased.
Quite simply Invisalign is a method of straightening teeth without brackets or wires.
They work via clear aligners, which are made of clear plastic, and look similar to teeth whitening trays or thin sports mouthguards. These aligners fit snugly against your teeth and are completely removable. Each set of aligners is worn for two weeks. After two weeks, you simply remove it and replace it with the next set in your custom-made series.
The wonders of Invisalign
Virtually invisible: If you are worried about your appearance, or a bit embarrassed about having something on your teeth. Invisalign is for you.
Completely removable: They can be removed at any time, so you can eat and drink normally without your aligners. But to ensure your treatment is on track, you should be wearing them for a minimum of 22 hours a day.
Comfortable: Without the metal and wire which braces come with, your teeth and mouth might be more comfortable.
Custom-designed aligners: First, we collect data about your teeth and your bite (digital photographs, digital x-rays and a 3d scan to create digital study model. Then we design a treatment plan based on the final desired position of your teeth.
Each aligner is custom-designed to exert pressure on certain teeth at a specific time in your treatment. The number of aligners varies and will depend on each individual.
What does Invisalign cost?
Good question! Every mouth is different and every person is looking for a different result, so we would need to have a look at your teeth first. We offer obligation-free and complimentary Invisalign assessments at our clinics, so you can have a chat with one of our treatment consultants before committing to the treatment. It's important to remember that we offer flexible payment plans, and that our patients take advantage of the plans every day. We are very happy to chat about our payment options.
Bracing yourself for braces
Braces are still the most effective and affordable orthodontic treatment available. Every day we get asked, 'how do braces work?'
Braces work by constantly putting pressure on your teeth and slowly encouraging them to move into the correct position. It's the arch wire that puts most of the pressure on your teeth, while many of the other parts (like the brackets) work to hold it in place.
There are 3 different kinds of braces.
Metal braces
Metal braces are the most common type (and the cheapest.) They consist of small, smooth brackets, an archwire, and small elastic bands, metal braces gently guide the teeth into the desired position.
Clear braces
Clear braces, also referred to as ceramic braces, are great if you want something more discreet. Crafted from high-quality ceramic, the near-invisible brackets are tooth-coloured so blend effectively with the natural colour of your teeth.
Lingual braces
If you want truly invisible braces, lingual braces may be the best option for you. Unlike metal and clear braces, lingual braces are positioned on the tongue side of the teeth not the front.
What do braces cost?
Again every mouth is different, but braces can start from as little as $5,000.
Got questions?
If you have any questions at all, call our friendly staff today. We are happy to help anyway we can. Call us at (02) 42205300 or you can book an appointment with us today.