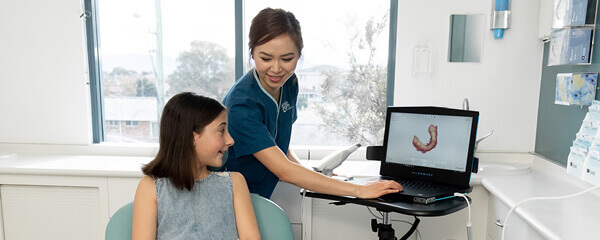 Giving your child the perfect smile allows them to have confidence, which is why kids need a visit to an orthodontist as early as possible. Dental problems are easier to fix when kids are young.  You might be wondering what the perfect age is when your child should see an orthodontist; for the answer to this and other questions, please keep reading our article.
What is an Orthodontist?
An orthodontist is a specialist doctor who works on the mouth, jaws, teeth, and the overall facial structure. They diagnose and correct conditions such as overbites, occlusions, misaligned teeth, overcrowded jaws, among others.
Orthodontists should not be confused with dentists, however. While they all work in the same general field, dentists have a much wider field which includes gums and nerves. In a sense, all orthodontists are dentists, but not all dentists are orthodontists.
As a specialty dentist, an orthodontist has to complete 3 more years of school and training in orthodontics (or 5000 hours) to be licenced in the practice. That is in addition to the normal 5 years of dentist education.
What Does an Orthodontist Do?
Orthodontists are highly qualified in conducting procedures such as installing braces, clear aligners, and even reconstructions. Their work involves correcting jaw and facial anomalies to give you the perfect smile.
The work of an orthodontist starts at diagnosis. They will take a look at your mouth to check for proper teeth alignment, the number of teeth on the jaws, as well as check into things like discomfort or pain when chewing.
They can also order for a mouth X-ray or an examination to see what exactly is the problem with the teeth or jaws. Once the issue is clear, they will recommend suitable courses of treatment to correct the problem.
The most common corrections involve braces and aligners. These are usually used in children because their teeth are in development and are easily corrected as they grow. Orthodontists also schedule regular checkups and follow up visits to ensure that the corrections are working.
These experts also work with other issues such as pain in the jaw, problems speaking (speech impediments), sleep apnea, among others. Usually, your dentist will refer you to an orthodontist, although you don't need a referral to book one.
How to Choose an Orthodontist?
Here are a few tips to help you find a trustworthy, effective, and of course, affordable orthodontist.
Consider their background and experience. Check out their specialty training history, accreditation with relevant professional bodies, and if any, professional recognition for outstanding work.
Word of Mouth – A first-hand review from people who have been previously treated by the orthodontist will help you predict your own experience. Listen or read about how they describe their success, by which you can gauge the orthodontist's skill and expertise.
Consultation – A physical visit to the orthodontist will help clear up any lingering questions. You can ask your questions, assess their manner, empathy, enthusiasm, and hear their views about treatment options for your problem.
Affordability – The cost of fixing dental or facial problems can be prohibitive, so be sure to get a quote first and compare. The best orthodontists also have flexible payment plans to help you pay in instalments without stretching your pocket too much.
Location and availability/team size – Orthodontic procedures are rarely completed with one visit. You will be having follow-up visits over months or even years, so you need to choose an orthodontist who is near you and is available when needed.
When to See an Orthodontist?
There is no mandatory age at which kids should see an orthodontist. However, it is generally recommended that children should see one at about 7 years of age, which is when the primary teeth start to grow.
The orthodontist will check to make sure that these teeth are growing properly with no occlusion, overcrowding, misalignment, or other problems. If they are detected, then corrective measures are taken in good time.
You should also visit an orthodontist if:
There are problems talking.
There is pain when biting.
There is an early loss of milk teeth.
The mouth is overcrowded.
There are large gaps between teeth.
There is pain in the jaws.
Teeth are crooked.
There are many other problems that an orthodontist can detect and correct. Smile Team is one of the premier orthodontist clinics in NSW. Book an assessment today to determine how healthy you or your children's teeth and jaws are.
Why is the Smile Team Perfect for You?
Smile Team has worked hard over many years to become the orthodontists of choice in Shellharbour, Wollongong, and Bowral. Here are four reasons why you should trust Smile Team to restore your smile to full glory:
Three convenient locations to make access easy and stress-free. We also have free convenient parking for our patients during visits.
A large team of orthodontists, oral care therapists, treatment consultants and other staff, we are all you need to get back your smile and bite.
Wide range of industry-leading procedures and treatment options, including being a Diamond member of Invisalign™.
Flexible payment options –  Smile Team has affordable payment plans for all procedures..
Still not sure if the Smile Team is right for you? Book a complimentary assessment today by simply filling out a form. We will discuss more with you about our procedures, our fees, payment plans, and more.